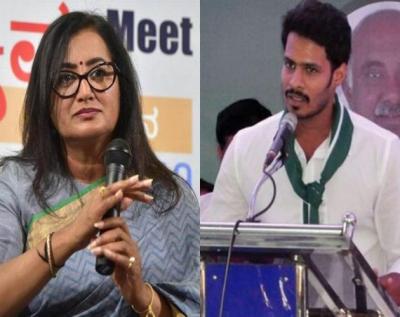 2019 Elections aren't only crucial for AP CM Chandrababu Naidu's Son Nara Lokesh. The situation of Karnataka CM HD Kumaraswamy's Son Nikhil Gowda is no different. This Actor-turned-Politician contested from Mandya Lok Sabha Constituency as the candidate of Congress-JD (S) Combine. Actress Sumalatha contested as Independent and BJP extended support to her.
Exit Polls for the Mandya Lok Sabha Segment has stunned Coalition Government. India Today-Axis Polls, TV9, News9-C Voter, Times Now and Suvarna Exit Polls predicted the victory of Sumalatha. Looks like, Nikhil Gowda's political debut is going to be a huge flop just alike his Film Career.
Kumaraswamy made a blunder by fielding his Son against Sumalatha who is riding on the sympathy wave post the demise of her husband Ambareesh. Even the campaign strategy of JD (S) made the job easy for the Senior Actress.
As per the Exit Polls, BJP is likely to win 19 out of 28 MP Seats in Karnataka. There can't be a bigger setback for the Congress-JD (S) Coalition Government. Favourable result for BJP could even lead to the collapse of the Kumaraswamy Government.