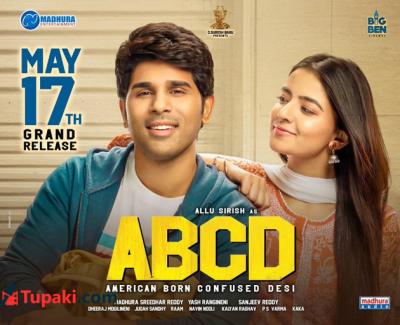 Movie Review: ABCD
Rating: 2.25/5
Cast: Allu Sirish, Rukshar Dhillon, Naga Babu, Bharath, Kota, Raja Sirivennela, Vennela Kishore and Others.
Music Director: Judah Sandhy
Cinematographer: Raam
Producers: Madhura Sridhar Reddy & Yash Rangineni
Director: Sanjeev Reddy
Release Date: 17th May 2019
Allu Sirish managed to establish himself as hero having decent acting skills with 'Srirasthu Subhamastu' and 'Okka Kshanam'. This time, He attempted the remake of a Malayalam Flick 'ABCD'. Posters and Promos offered an impression that it's going to be an entertaining flick. Has the remake worked for Mega Hero?
Synopsis:
Aravind (Allu Sirish) who is the son of Millionaire NRI Vidya Prasad (Naga Babu) is a rich spoilt brat. Vidya Prasad send his Son to India for making him realise the value of money. From then onwards, Aravind was asked to survive with a monthly allowance of Rs 5000. He ends up falling in love with Neha (Rusher Dhillon). On the other hand, Aravind crosses swords with Young Politician Bhargav (Raja Sirivennela) for the sake of people in his colony. Watch 'ABCD' to know how does these two deviations help him become a better person!
Performances:
Compared to his previous films, Allu Sirish improved a lot and offered a matured performance. Though his dances were nothing special, He did well when it comes to expressions and dialogue delivery. Of course, There is scope for improvement.
Rukshar Dhillon is beautiful and she did perform well. Master Bharat who is quite successful as a Child Artiste failed to leave a mark of his own inspite of travelling with the hero throughout. Raja Sirivennela appeared to be a misfit for the role of Main Antagonist. Naga Babu is alright. Vennela Kishore tickles the funny bone. Kota Srinivasa Rao and Subhalekha Sudhakar were restricted to just few scenes.
Pros:
Allu Sirish's Growth As An Actor
Rukshar Dhillon
First Half
Cons:
Narration
Climax
Technicalities:
'Mella Mellaga' Song composed by Judah Sandhy is pretty good. Background Score could have been better. Cinematography by Raam is worth praising. Editing by Naveen Nooli could have been more sharper. Dialogues penned by Kalyan Raghav are just okay. Production Values are decent. The Plot chosen by Director Sanjeev Reddy is nice but he failed to narrate it effectively. Changes made to suit the Telugu Nativity hasn't helped much.
Analysis:
Lack of any particular image offers the freedom for Allu Sirish to attempt any kind of subject. He, however, didn't take any risk after the debacle of 'Okka Kshanam'. Preferred an entertainer based on the concept of American Born Confused Desi. Attempt was made to generate fun from the hardships faced by a Rich Spoilt Brat in India. First Half of 'ABCD' is entertaining to an extent.
Although Scenes appear fresh, Viewers laugh here and there but don't get the feeling of watching something pretty good. The Episode of Hero clashing with the Young Politician was ineffective due to bad writing. Few Scenes meant for hero elevation looked forced. Too much dramatisation of hardships faced by Hero, Silly Sub-Plots & Unimpressive Confrontation Scene between Hero-Villain in the Interval work against the movie.
Screenplay in the Second Half should have been far better. Youth Icon Contest in the last 45 minutes makes the viewers eagerly wait for the Climax. The lengthy speech of the hero towards the end only tests the patience. Significant improvement in the action skills of Allu Sirish is a positive here. Due to not so good writing, Comedy works only in parts. Overall, 'ABCD' disappoints due to lacklustre narration. 
Bottom Line: Not Gonna Work!       
Rating: 2.25/5
Disclaimer : This Review is An Opinion of One Person. Please Do Not Judge The Movie Based On This Review And Watch Movie in Theatre