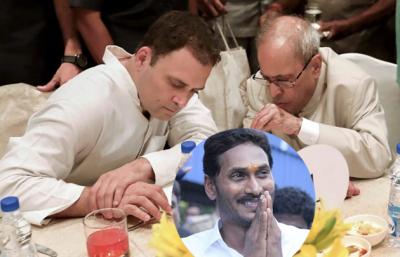 Go with Jagan - this is the sage advice given to Congress chief Rahul Gandhi by Pranab Mukherjee, one of the senior most politician and the man known for his political acumen. Once Congress Party's biggest trouble-shooter, Pranab da is still proffering his advice to Rahul in times of need. Now that election results are going to be out in a few days, Pranab Da is reported to have advised Rahul that it is any day better to go with Jagan than with finicky, mercurial and foxy Chandrababu Naidu.
Pranab Da is reported to have said that Jagan would be focusing primarily on state politics and would not prefer to interfere in AP politics. Unlike Jagan, Chandrababu would stay put in Delhi and would try to put spokes in the Congress wheel through his machinations.
Jagan too has no objections to extending support to the Congress. The only issue he would press for is the special status to Andhra Pradesh. Even the Congress has committed itself to giving special status to Andhra Pradesh. If the special status is given, Jagan would willingly back the Congress, Pranab Da is said to have reasoned.
With Jagan poised to get maximum number of seats in the Lok Sabha, the Congress has already begun courting YS Jagan.