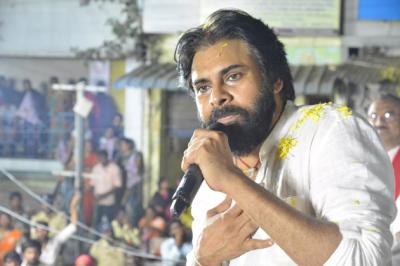 Pawan Kalyan's approach towards Telangana seems to be gradually changing from Pro-TRS to Anti-TRS. He kept speaking in favour of TRS Government until few months ago but began attacking ever since KCR befriended Jagan to dethrone Chandrababu Naidu from power.
The comments made by Pawan Kalyan while interacting with party candidates on Sunday led to a debate in political circles. By saying Telangana People want change to happen, Jana Sena Chief stressed the need for fighting against the authoritative approach of Telangana CM KCR and the manner in which he is ruining the existence of the Opposition.
Inspite of knowing about the bleak chance of victory, Pawan Kalyan fielded Jana Sena Candidates in few Lok Sabha Segments in Telangana. He is keen to contest the upcoming Local Body Polls as well.
If someone like Pawan Kalyan raises the people's issues in Telangana, TRS Government will be in trouble as he could draw the attention of the public instantly. KCR don't want that to happen at any cost!