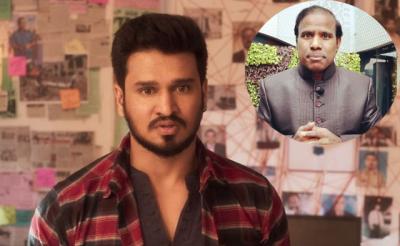 KA Paul has drawn more attention than any other politician during the 2019 AP Elections. Thanks to his tall claims, funny antics and extensive media coverage. After complaining about EVM malfunctioning and failure of Election Commission, Praja Shanti Party Chief went to USA for reasons best known to him.
On the other hand, Promotions of 'Arjun Suravaram' has been launched in the Telugu States. Nikhil Siddhartha who essayed the role of a reporter is coming up with innovative promotions. Yesterday, He was in the TV9 Studio to be the reporter for a day.
As per reports in circulation, Team Arjun Suravaram is keen to interview none other than KA Paul anytime soon. It's an attempt made to build the buzz around the project ahead of the release. This interview could be different from that of the previous ones of Paul.
When KA Paul would be returning to India and when he gonna be offering his interview is a million dollar question for now. Arjun Suravaram is releasing on May 1st, 2019.