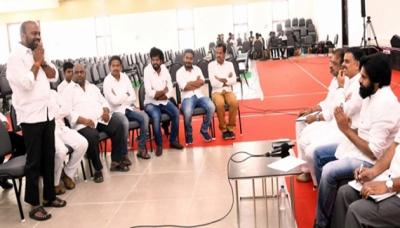 Pawan Kalyan conducted a review meeting to assess the performance of Jana Sena Party in 2019 Elections on Sunday. People expected 141 MLA Candidates and at least 18 MP Candidates of the party to attend the meeting chaired by the President.
Much to everyone's shock, Only 12 Jana Sena Candidates had attended the meeting. Not even 10 percent of the 200-odd chairs in the meeting hall at Jana Sena Office in Vijayawada got occupied. Vijay Sai Reddy has recently created a sensation by commenting how could Jana Sena win 88 seats if it contests only in 65 segments. Not even those 65 candidates attended the party meeting.
Inspite of the low attendance, Pawan Kalyan conducted the meeting and conveyed what he want to say to the limited number of leaders.
Sources close to Jana Sena say, There is no need to make an issue out of it. That meeting was meant for a interaction with few party candidates. Why wouldn't JSP Candidates attend the meeting if they have an invitation from Pawan Kalyan?