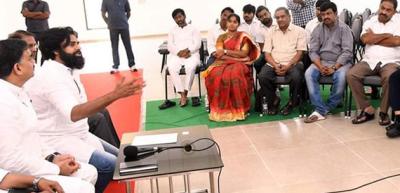 Pawan Kalyan held a meeting with party leaders for the first time several days after completion of polling. He met the Youngsters who were fielded in the 2019 Elections as Jana Sena MLA and MP Candidates. Not only did he enquire about their personal experiences, but also conveyed a motivational message.
Addressing the candidates, Pawan Kalyan told: 'Both TDP and YCP have been claiming they would win 100-plus seats but we refrained from making such tall claims. I just asked party leaders to analyse the polling trends. Change don't happen overnight, it takes time. Just alike I had identified you, You must identify loyal individuals to work for the party. We try to bring the same change in the local body polls as well. Everyone wishes to change the society, but very few will take the initiative. If we took up the mission to bring a change, Even our own family and friends won't encourage us. We need to overcome such a situation. Movements will happen when there is disparities in allocation of funds and creation of employment opportunities. Be it anywhere, Only two families have been dictating terms to the people. They are have the authority on who has to received funds and water. Let's fight against such wrong practices'.
Pawan Kalyan believes change will happen if majority of the people work fearlessly. 'I forayed into politics believing that such a change is possible only with Youth. Be with people even when there are no elections and address their issues. Let's continue the mission for a better society,' he ordered.