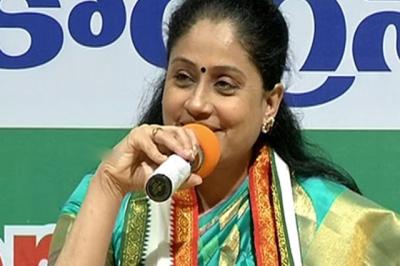 Vijayashanti campaigned for Leader of the Opposition in LoK Sabha Mallikarjun Kharge in Karnataka's Gulbarga on Friday. The comments she made against the Prime Minister during the whirlwind tour has become a sensation now.
The Actress-turned-Politician told she hasn't seen a bigger criminal than Narendra Modi till date. She accused Modi of deceiving the people with his blatant lies by pointing out the poor implementation of Demonetisation and GST.
Recalling the unfulfilled promise of bringing back the Black Money from foreign banks, Ramulamma ridiculed Modi for allowing businessmen who cheated banks thousands of crores to flee to other nations. She alleged Modi has done nothing for the people in the past 5 years. 'Vote for Congress in this elections...You will witness the defeat of Modi on May 23rd,' she told.
Several years ago, Vijayashanti campaigned for BJP in the constituencies where Telugu Population is more in Karnataka. This time, She is campaigning against the Saffron Party in the same state.