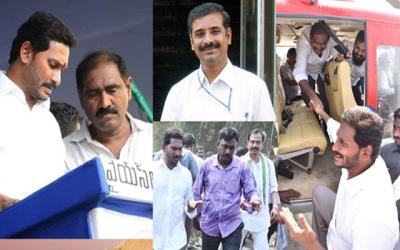 DP and YCP fought so hard in the 2019 Elections. Despite not being in power since a decade, YS Jaganmohan Reddy has put up a spirited fight against the Ruling TDP and made Chandrababu Naidu coup with sleepless nights. Four Members in Jagan's Team deserves the credit for completing the poll campaigning successfully. Who are the Super 4 & how did they contribute?
1) GVD Krishna Mohan: Assigned the task of updating media about the day-to-day activities of YS Jagan, Analysing the criticism from other parties and Providing necessary info needed for YCP Chief's Political Speeches.
2) Talasila Raghuram: Since the inception of YCP, Raghuram is taking care of every activity planned by the party supremo be it Odarpu Yatra, YS Vijayamma's Pulivendula By-Election Campaigning, Padayatras of YS Sharmila & Jagan, and 2014-2019 Poll Campaigning.
3) KNR: As Personal Secretary, KNR keeps following Jagan all the time to handle his personal, political and campaign activities. Even during 2014 Polls, GVD, Raghuram and KNR accompanied Jagan whenever YCP Supremo conducted whirlwind tour in a chopper.
4) Trump Avinash: Avinash is the member of a Team which worked in favour of Donald Trump during US Presidential Polls. He is one of the Political Strategists hired by Jagan. Avinash was assigned the duty of monitoring the campaign trends along with Prashant Kishor's Team and offer accurate feedback.
All of these four people kept accompanying Jagan like a shadow and played crucial role in helping YSR Congress accomplish it's mission. It's high time every YCP Supporter recognises the efforts put in by them.