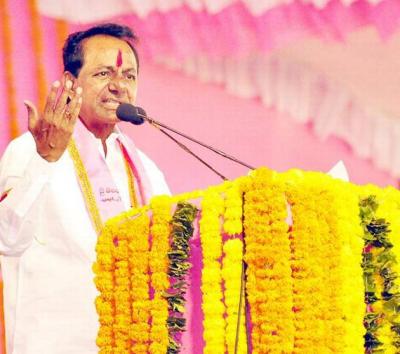 The TRS and its boss KCR seem to be pinning all their hopes on the national politics. They hoped to become either the king or the king maker at the Centre. But, there are also questions as to how KCR can either become the king or the king maker with just 16 MPs. But, is the TRS doing enough to realise its dreams?
In a recent interview to Telugu daily Sakshi, party working president KTR claimed that the things were now different from 2014 and that the BJP would never be anywhere near the absolute majority mark. He said the BJP may not win more than 150 seats, while the Congress cannot hope to win more than 100. This being the case, parties like TMC, Samajwadi Party, Mayawati's BSP, Naveen Patnaik's BJD, KCR's TRS and Jagan Mohan Reddy's YSRCP would get close to 17- seats among themselves. This being the case, why should the regional parties allow either the BJP or the Congress to form the government at the Centre, reasoned KTR.
But, his argument appears to be based more on fond hopes rather than sound logic. Will Akhilesh and Mayawati or for that matter Mamta Banerjee allow KTR or KCR to dictate terms? Among themselves, Maya and Akhilesh have 80 seats to win and hope to get at least 45. In case of Bengal, there are 42 seats at stake and Mamta hopes to win a majority of them. KCR's talks with these leaders did not make much progress. So clearly, only Navin Patnaik's BJD and Jagan Mohan Reddy's YSRCP would be with KCR. Assuming that they win all the seats in their respective states, the number would not be more than 70 seats. But, is KCR doing anything to bring these three parties together and form an alliance? Well! The answer is a big NO. So, how can KCR become the king or king maker at the centre?