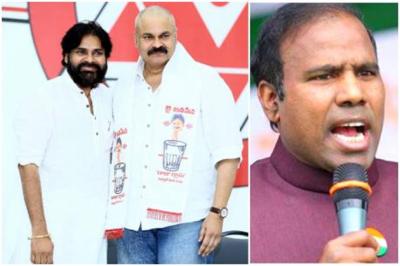 Pawan Kalyan fielded Naga Babu as the MP Candidate of Jana Sena Party for Narsapuram Lok Sabha Constituency. And now, None other than KA Paul got ready to contest against the Mega Brother.
KA Paul challenged Naga Babu that he is willing to contest against Naga Babu if he is in race for Palakollu MLA Seat. 'If Naga Babu contests from Palakollu, I would be contesting against him. We need development, not Actors. Unemployment should be eradicated. I will establish better hospitals than Apollo in every constituency if I form the government. My development model will make AP surpass America. Don't fight in TDP and YCP for seats. Come out of those parties. You will become MLA if you could spend Rs 28 lakh and get elected as MP by spending Rs 50 lakh. Kejriwal defeated 3-time CM Sheila Dikshit in Delhi with just Rs 7 lakh. For Me, Rs 5 lakh is more than enough for victory. Don't indulge in corruption. Not more than Rs 28 lakhs should be spent as per norms,' he preached.
Does the challenge thrown by KA Paul have any logic? Why don't he contest against Naga Babu for Narsapuram Lok Sabha Seat?