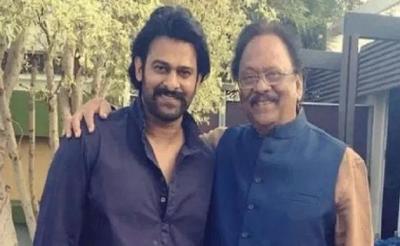 BJP is leaving no opportunity to strengthen its AP Unit post the 2019 Elections go waste. Already, It succeeded in luring Four TDP Rajya Sabha MPs and few Ex-MLAs. There is every possibility of several Telugu Desam MLAs, Ex-MLAs and Ex-MPs joining the Saffron Party in the near future.
And now, BJP is trying to own Prabhas who earned immense craze with Baahubali franchise. It has gone to the extent of Krishnam Raju offering a call asking Prabhas Fans to join the Saffron Party.
Union Minister Kishan Reddy and Former Union Minister Krishnam Raju attended the BJP Membership Drive conducted in Hotel Ilapuram. Speaking on this occasion, Rebel Star said: 'My Fans and the Fans of Prabhas should join BJP and work for the country. My Fans are in all the parties but never did I ask them to join any particular party. But now, I am doing it for strengthening the party and for the sake of the country. BJP offers a wonderful platform for those who begun their journey as Karyakathas too. Kishan Reddy is a best example for it'.
Kishan Reddy declared BJP is all set to emerge as the biggest party in both the Telugu States. He recalled how the Saffron Party formed the government in Tripura where it don't have 1 percent vote bank and also in Assam where it had just 6 percent vote bank.